I've been anxiously waiting a little bit to make this post which contributed to my brief hiatus. I wanted to set into my job before blogging about it in case something horrible happened. Now that I have gotten over that worry, I wanted to share some bits and pieces about my first job as a Technologist!
Shortly after receiving my CSMLS results an opportunity present itself to interview for a full-time position in a Microbiology reference lab. Now for those who know me, this was basically my dream position. I have always wanted to work in Microbiology, combining my BSc with my technical training as an MLT. Of course, being a very fresh new grad, I did not think I stood a chance to actually get the position but was thrilled to interview for it for the experience and to get my name out there, if nothing else. The interview went well and shortly after I got the email offering me the position!
The position itself covers a number of different departments. I currently work in the Tuberculosis lab processing, culturing and analyzing specimens - something not covered very in-depth in school! Everyday I process a variety of specimens ranging from tissues, pleural fluid, sputum and bronchial washings and then read the concentrate smears for acid fast bacilli via fluorescence microscopy. I recently completed my Level 3 training to work with pure cultures of mycobacteria grown in liquid media (MGIT) and solid media (Lowenstein- Jensen). The procedure to enter Level 3 is very tedious with many layers of scrubs, gloves, gowns and protective hood. I still think it blows my family's minds that I wear a PAPR and a "moon suit" every day.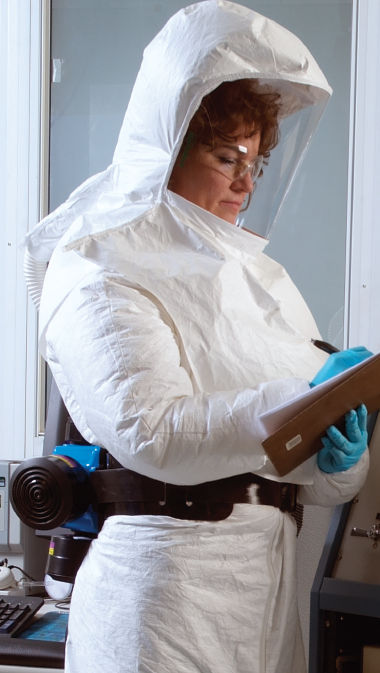 Much more spacious version of what I wear
The TB lab is a very unique setting from other microbiology labs as it is so specialized. There are so many little things to know such as certain mycobacteria such as
M.xenopi
or
M.gordonae
grow in yellow balls in liquid media and may not be picked up by the machine. You have to carefully look at the tube media once it is taken out to make sure they are not missed. Also, I find it much more connected than other micro labs I have been in as I am constantly having to call physicians with positive results or speak directly with infection control practitioners who need results or have questions. I have already have to explain the processing procedure to a few interested physicians as well!
So far I am absolutely loving what I do and can feel the impact I am making on patients' lives. I am thrilled that my first technologist job is one that I love and where I want to be right now. It can only get better from here!
-K